Homeowners today might wonder, is stamped concrete outdated? After all, every year there seems to be a new material choice for your outdoor spaces. In turn, it's easy to wonder if stamped concrete is durable, attractive, and as easy to maintain as other options.
Stamped concrete still offers excellent advantages, including:
Quick installations
Ease of working concrete around obstacles
More control over the finished color
Durability and easy maintenance
Versatility in design
Additionally, note that a contractor can usually create stamped concrete patios, walls, landscape edging, and the like. You can then ensure a cohesive look around your property.
For more information about the question, is stamped concrete outdated, keep reading! Also, you can call a concrete installation contractor near you if needed. In turn, you'll enjoy a stunning outdoor space that works for you for years to come.
Is Stamped Concrete Outdated?
Stamped concrete offers several advantages for outdoor spaces. Consequently, it's a popular choice for many projects. Note some key advantages of using stamped concrete for your patio or backyard project:
Aesthetic Appeal
Stamped concrete replicates more expensive materials including natural stone, brick, slate, or even wood. As such, it provides a wide range of design options. This allows you to achieve a high-end look without the same price tag as other materials.
Additionally, your stamped concrete installer can create a look that coordinates with other materials on your property. For instance, you might want a walkway to coordinate with exterior brick walls. Using stamped concrete allows him or her to create an installation that matches easily.
Cost-Effective
Stamped concrete is generally more affordable compared to stone, pavers, or other materials. This lower price allows you to achieve a similar look at a fraction of the cost. Also, its more affordable price tag means that you can enjoy a large patio or other installation without breaking the bank!
Versatility in Design
Stamped concrete comes in various patterns, textures, and colors, enabling you to customize the look to match your design preferences. Whether you're aiming for a rustic, modern, or traditional appearance, stamped concrete can be tailored to suit your desired look. This includes wood finish looks, which are often difficult to achieve with other materials!
Durability
When properly installed and maintained, stamped concrete is very durable and long-lasting. It withstands heavy foot traffic, vehicle traffic, and outdoor weather conditions without significant wear or deterioration.
Also, note that concrete is often more durable than other materials you might use for outdoor installations. concrete is not as brittle as many pavers and doesn't rot or buckle like wood. You can then enjoy a like-new appearance for years after your stamped concrete installation.
Low Maintenance
Stamped concrete requires relatively low maintenance compared to other outdoor materials. Sealing the surface periodically protects it from stains, UV damage, and water penetration. Concrete sealing also restores its color.
Routine cleaning and resealing are usually sufficient to keep the surface looking good for years. Standard pressure washing is also an excellent choice for removing dirt and grime even in concrete pits and pores. Concrete also resists mold, rot, and other damage you might notice with wood and other materials.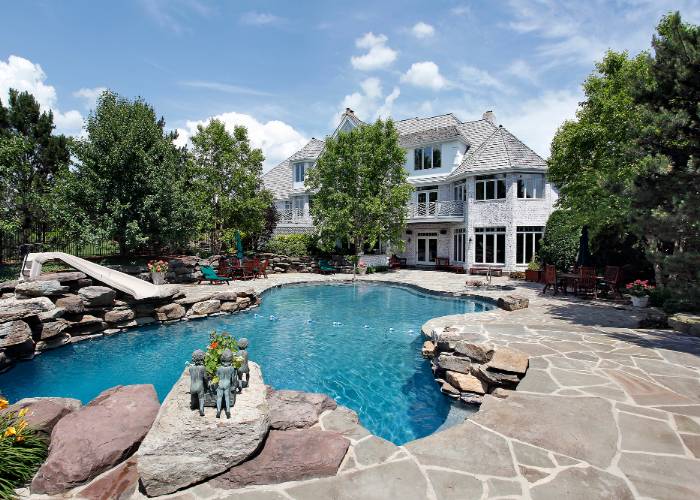 Quick Installation
Stamped concrete installation is generally faster compared to laying individual pavers or stones. This can save time on your project and minimize disruptions to your outdoor space. You are also less likely to face materials shortages and other delays when you select concrete!
Also, quick installation makes stamped concrete a great choice for properties you want to put on the market. You don't need to wait long for a patio or new driveway installation when you choose stamped concrete. In turn, you'll have less risk of having to delay an open house when you opt for concrete.
Uniform Surface
Unlike natural stone or pavers, stamped concrete provides a smooth and even surface. This is excellent for spaces where a level and accessible area is vital, such as patios, pathways, or pool decks. A level surface is safer for pedestrians and outdoor furniture!
Reduced Weed Growth
Since stamped concrete is a solid surface, it limits the spaces where weeds can grow through. Also, a contractor can add joint sand along expansion joints. This reduces maintenance needed to keep weeds at bay. Additionally, it means a more attractive look for your outdoor installations!
No Settling Issues
Unlike individual pavers or bricks that can shift over time, stamped concrete is poured as a single slab. This reduces the likelihood of uneven settling. Also, you don't need to worry about single bricks or pavers coming out of place.
What Is the Life Expectancy of Stamped Concrete?
The life expectancy of stamped concrete varies depending on several factors. These include the quality of installation, maintenance, climate, and usage. When well-installed and properly maintained, stamped concrete can last for several decades.
The installation is a crucial factor in the lifespan of stamped concrete. Proper site preparation, appropriate subbase, reinforcement, and correct mixing and pouring techniques all contribute to durable concrete.
Regular maintenance plays a significant role in the life of stamped concrete. This includes cleaning it to remove damaging dirt, debris, and stains. Sealing the concrete every few years helps protect it from water penetration, UV damage, and stains, which extend its lifespan.
The climate has a significant impact on its longevity. Freeze-thaw cycles, extreme temperatures, and exposure to harsh weather conditions cause premature deterioration in many cases.
Traffic over the stamped concrete also affects its lifespan. High-traffic areas such as driveways and commercial walkways may experience more wear and tear compared to patios or pathways.
Given the right conditions and proper care, it's not uncommon for stamped concrete to last 20 to 30 years or longer. However, it's important to note that individual experiences can vary. Also, factors beyond your control, such as natural disasters, accidents, or significant shifts in the underlying soil impact the longevity of stamped concrete.
A Word From Our Team
Baton Rouge Stamped Concrete & Decorative Designs is happy to answer the question, is stamped concrete outdated? Hopefully we have given you some great information to consider. Also, feel free to call our Baton Rouge stamped concrete installers for your no-cost price quote. We carry a wide range of stamped concrete designs you're sure to love!